When it comes to the buying process, B2B buyers operate very differently than consumers do. The process your leads or prospects go through when making a B2B purchase, is much more complicated and usually involves a lot of back-and-forths, as the seller continues to nurture and drive the leads down the sales funnel.
Now, the B2B buyers' behavior has changed drastically over the past years, as they are increasingly looking for a consumer-like digitized experience. The outbreak of the COVID-19 pandemic reveals an even bigger shift towards digital and remote engagement.
According to recent findings from McKinsey1, 70%~80% of B2B buyers now prefer remote human interactions and digital service, because of the ease of online scheduling, savings on travel expenses, and safety concerns. And the research also shows that a notably 70% of B2B buyers are now open to place high-ticket orders that exceed $50,000 online through end-to-end digital self-serve. That means digital selling and prospecting has become just as effective as in-person meetings, in reaching and converting your customers.
Savvy B2B sellers are now learning to adapt to the new norm, pivoting to digital means, and finding the best path to stay relevant to the changing B2B buyer behavior. The recent US SMB confidence survey conducted by Alibaba.com shows us that US manufacturers are catching on and looking for ways to ride new waves of digitization.
"Digitization is no longer a nice-to-have, but a must-have for companies in every industry to bridge from surviving to thriving in the next era of business"
Before we go any further, let's cover the basics of the B2B buying process and help you break down the essential stages in the B2B buyer's journey that has remained overall unchanged. And then we will dive into how Alibaba.com, an online B2B marketplace, helps streamline the process. We will offer tips and strategies you can adopt to get more orders as an Alibaba.com supplier by improving your buyer's journey and experience.
What is the B2B buying process?
The B2B buying process is the journey that buyers go through when purchasing products for their businesses. This process is different from the B2C buying process in several ways. The table below outlines the differences between B2B and B2C buying and decision-making process.
There are also areas where B2B and B2C customer buying behaviors converge.
Both value excellent customer service and after-sale support
Both are shifting towards a fully digitized seamless buying experience
Customer loyalty is an overarching goal
Authenticity and credibility are key engagement prerequisites.
As a B2B seller, one of the most important things that you need to understand is how to influence the B2B buying journey and develop your sales strategy with B2B decision-makers in mind to cultivate professional and long-term relationships.
5 stages of the B2B buying process
The B2B buying process has 5 distinct stages. This process is driven by the strategic decision making that is required for running a profitable business. That being said, let's take a look at each of the stages of the B2B buying process.
1. Problem recognition
The first stage of the B2B buying process is identifying their need or demand for goods or services. This need is not necessarily related to the operations of the business itself but to the desire to grow the business.
Problem recognition could be triggered by different needs:
a lack of stock
a need to expand the product offering range for retailers
a need to replace an unreliable supplier
a need to source raw materials for manufacturing into final products
Once a business has come to the decision that they need certain goods or services, they will move onto stage 2.
2. Information search
Once buyers acknowledge their need, they set out for initial research, which aims to find the right products or services, as well as put together a list of potential options. This process can be quite time-consuming and will detail and compare price, supplier reputation, quality of goods, range of products or services, and delivery options.
There are many ways B2B customers can go about searching for products or solutions, including traditional offline channels and digital channels such as search engines, vendor websites, and B2B marketplace. Now that B2B buyers are increasingly shifting towards digital, it is more important than ever for B2B sellers to build an online presence.
On Alibaba.com, millions of business buyers are sourcing products using the site search every day. Thus, it is critical for you as a seller to optimize your product postings for SEO in the platform and leverage promotional programs such as keyword advertising to your advantage.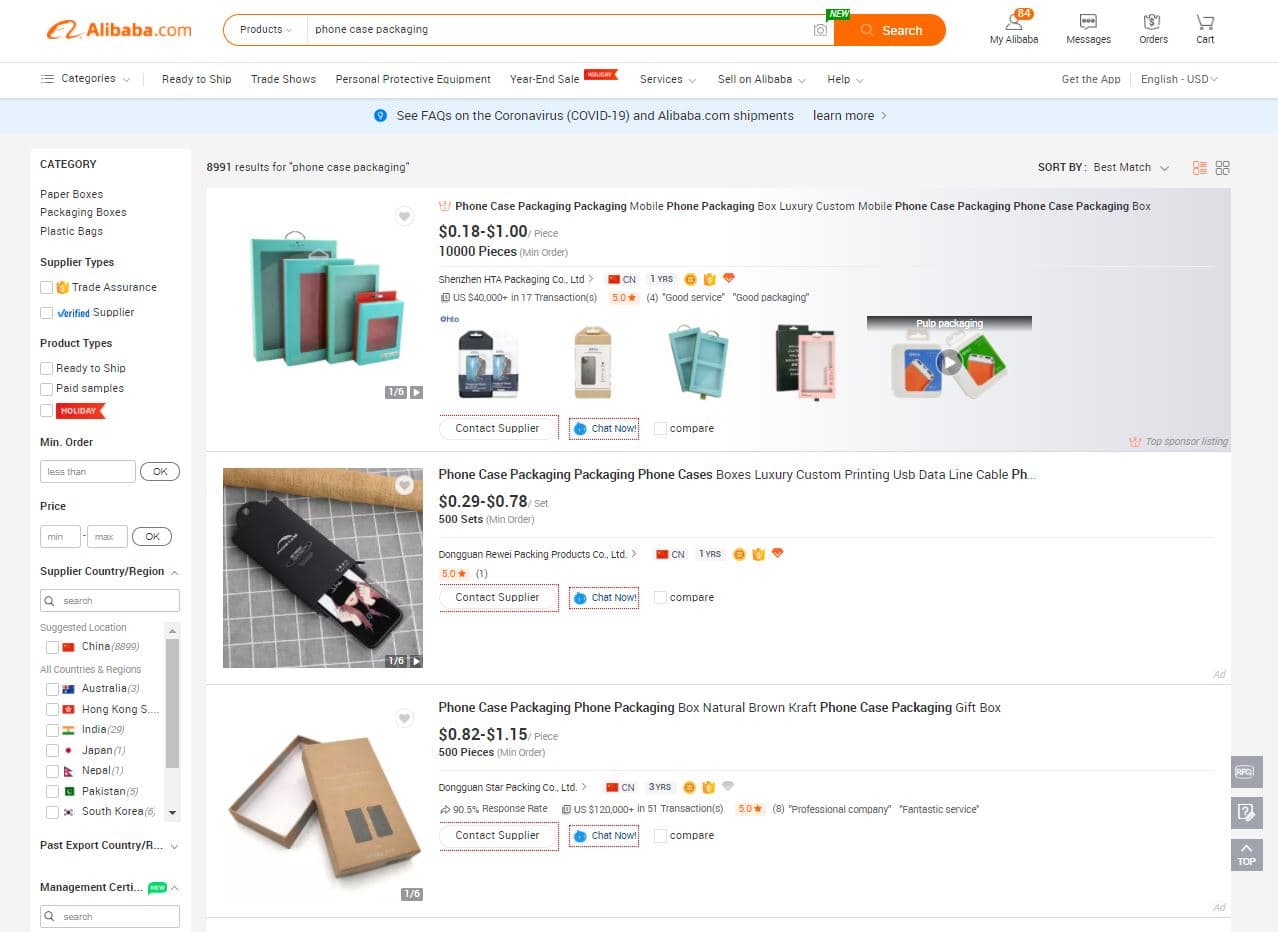 After the buyers have performed their searches and gathered all relevant information from the product details, they will need to compile and narrow down the options and move the stage 3 for further evaluation.
3. Evaluation
Stage 3 is the evaluation stage, which includes weighing up the advantages and disadvantages of each alternative option. This evaluation process can take the longest compared to the other stages.
B2B buyers can consider the following factors when evaluating the different options:
Product specifications including features and functionality
Pricing comparison
Quality assurance and demonstration
Inventory availability
Reviews and testimonials
Payment terms
Delivery terms
As a seller, you must identify what sets you apart from your competition so that buyers can easily see the difference and understand why you'd be the right choice for them. By showing high-quality images and videos of your organization, positive customer feedback, and authoritative certificates on your mini-site as an Alibaba.com seller, you are making such important information readily accessible to potential buyers and increasing your chances of closing the deal.
Stage 3 also often involves B2B buyers reaching out to manufacturers and suppliers with an inquiry. Each supplier will be asked to provide a response to a request for proposal or request for quotation. This is the key opportunity for suppliers to win over a B2B buyer and convert an inquiry into a sale. For sellers, it is important to make sure you respond to the inquiry in a timely and professional manner and answer every specific question that the buyers have asked. Flexibility with minimum order quantity and the willingness to cater to your clients such as providing samples will also show that you value your customers, which is a plus.
4. Purchase
Once a supplier has been chosen, it is time to place the order. This could be a one-off purchase or part of an on-going supply chain commitment.
The nature of the transactional stage is also quite different for B2B and B2C buyers. In B2C, consumers pay the same price for the product as the other consumers. Therefore, in the B2C eCommerce world, the process is carried out in a relatively simple and straightforward way: consumers browse the products, select what they want to purchase, enter delivery information, and proceed to checkout through online payment gateways, and then expect the products to arrive.
However, in the B2B space, prices may vary and can be negotiated. Order volume, relationship with the buyer, payment and delivery terms, and many factors can play into the pricing structure. Customers also often do not pay at the time of the order but receive an invoice in which mutually agreed payment terms are specified.
Although research has shown that business buyers are more willing to place orders online in the post-pandemic world, B2B sellers are facing many challenges due to the complexity of B2B transactions, when transitioning to eCommerce and trying to offer a fully digitized checkout experience for their buyers. Such challenges include:
integrating with a quotation system
offering flexible payment methods and terms
integrating with administrative systems such as invoicing, accounting, CRM, and ERP
Risks and fraud prevention
Buyers on Alibaba.com can place orders via Alibaba.com Trade Assurance, which protects orders from payment through delivery. It provides a secure payment platform for both the buyer and seller, ensures products arrive at the final destination on time and as expected, and provides impartial mediation if there is a dispute.
5. Post-purchase activity
The final stage in the B2B buying journey is post-purchase activity. This stage includes customer feedback, product reviews, and satisfaction surveys.
Post-purchase activity helps sellers to improve their service or goods and generate happy and satisfied customers. Positive feedback should be greatly received and will hopefully create more inquiries and orders. Negative feedback needs to be appreciated and acted upon. This allows you to set the tone for a long-term relationship with the customer and increase the likelihood of future purchases.
Final thoughts
Understanding the B2B buying process is important for sellers because it will help you provide a better experience for your customer. Enhancing this customer experience will help you make sales and maintain relationships with customers, which will help you increase your revenue and grow your business.
If you are looking to improve the B2B buying experience for your customers with eCommerce, Alibaba.com is the perfect solution. Our platform is loaded with tools and features that streamline the process for the parties on both sides of the transaction. Aside from the easy-to-use online B2B marketplace, Alibaba.com offers secure portals for communication and payment, Trade Assurance, Request for Quotation marketplace, and more.
Contact us now with any questions about how Alibaba.com can help you grow your online business and reach your goals.
References:
1. https://www.mckinsey.com/business-functions/marketing-and-sales/our-insights/these-eight-charts-show-how-covid-19-has-changed-b2b-sales-forever